MySQL again
Wednesday, February 19, 2003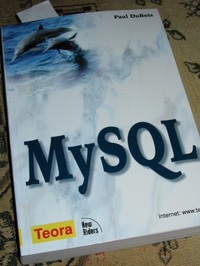 Well, this is a pretty popular subject here in my blog. But I think I'll burry it. :-)
I was looking around on the Net for some good MySQL books and I found two which I mentioned in an earlier post. I wanted to buy this one from Amazon UK or FR. And then my french connection jumped into the picture protesting and telling me that he'll buy me the book (supporting all charges) because it's for my work and bla-bla. I said OK. Who would said something else? He was actually going to buy it this week.
But what do I see when I visit a local bookstore? Just the afore mentioned book translated into comfortable Romanian for half of the price of the original English edition. I haven't thought too much about it. I saw it Friday, bought it yesterday. The thought of having a paper reference for MySQL keeps me so warm and fuzzy. I peeked into it yesterday afternoon and it seems really comprehensive!
So, it's time to plug some MySQL knowledge holes!
Maybe in the future (after getting myself through this book) I'll consider getting the cookbook too.