The end of the local winter season
Monday, April 7, 2008
Webcam image of the the base of the Roata slopes at Cavnic captured a few minutes ago: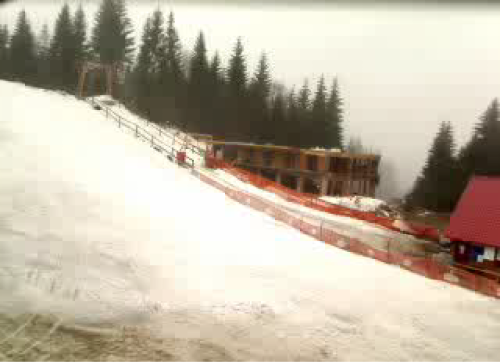 Depressing.
It looks that I was right when I titled the Flickr set containing pictures from last week's Saturday snowboarding session as "Winter season's end (2008)". It was a beautiful day with full on sunshine. Actually the sun was shining so brightly that I was concerned about the bald spot on the top of my head getting burnt. I've also had one of this winter's best backcountry runs just a few short meters from the "official" Roata slope. Mmm, sweet powder. It felt great…
Unfortunately the rains that kept falling during most of last week proved to be a real nemesis of the remaining snow. I checked the webcam this Saturday too. It was pouring. The cable transport was off. There was noone. Sad.
Anyway, I said the end of the local winter season because starting with Thursday we're hitting Balea Lake for a grand season end. Keeping my fingers crossed for some good weather.