The weekend was absolutely amazing
Monday, November 12, 2007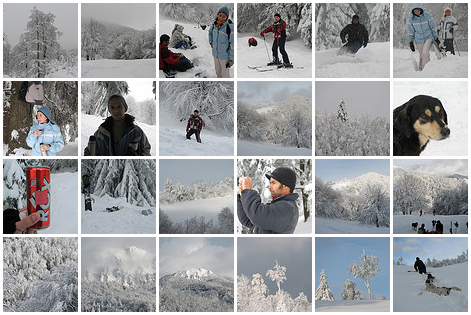 Oh boy, what a weekend it was! I can only wish to have half the fun I've had during this weekend in the weekends that will follow and I promise that I'll be completely satisfied.
Saturday we hit "The Doctor's Garden" which is a (mini) slope right of the hiking path that takes you from the Pintea Viteazul Inn to the Rooster's Crest. And even if Sunday we went to Cavnic where we had a skilift and a proper slope to our disposal I can say without a trace of doubt that we had way more fun riding down the Doctor's Garden. And climbing back up from the base to the top… Thank God for energy drinks or else our eco snowboarding trip would have been a complete failure! When we arrived there it was kind of cloudy and a few minutes later it started snowing hard. However after about half an hour the snow stopped and the clouds went away revealing one of the most beautiful blue skies I ever saw. And the surroundings, those trees covered in snow… Words can't really do them justice.
Later the clouds cleared up yet more, revealing the rocky walls of Secatura. Oh boy. But all this wasn't enough and I decided to conquer a nearby hill. Steve joined me (later regretting the decision) and once we reached the top we experienced yet another of those breath taking moments. Because the view was… Uhm. Just check that Flickr set already!
Sunday we went up to the Roata slope at Cavnic because we heard that they've started up the skilift. It was nice, but nothing out of the ordinary. You know, same old Cavnic, same old Roata. Well, except maybe that we were boarding on the 11th of November like it was January / February.
Once back in Baia Mare we (as in Ioana and the undersigned) attended the glorious ceremony of my graduation from a n00b driver to a fully-fledged-no-more-stupid-yellow-circle-with-an-exclamation-sign-in-the-middle "pro". Hehehe. Aka, 1 year passed since I acquired my driving license. Without as much of a scratch on the car(s) - except a few close calls. Touch wood and hurray me! Don't miss Sunday's photos on Flickr.