Seb - February 2007 Promo Mix
Thursday, February 8, 2007
Shake your ass to this: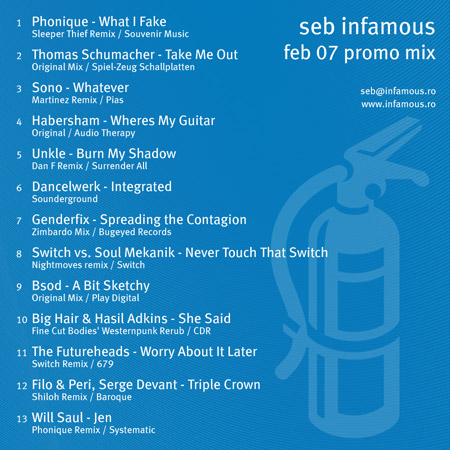 Tracklist (for my image blind friend, Google):
01. Phonique - What I Fake (Sleeper Thief Remix) [Souvenir Music]
Thomas schumacher - Take Me Out [Spiel-Zeug Schallplatten]

Sono - Whatever (Martinez Remix) [PIAS]

Habersham - Where's My Guitar [Audio Therapy]

U.N.K.L.E. - Burn My Shadow (Dan F Remix) [Surrender All]

Dancelwerk - Integrated [Sounderground]

Genderfix - Spreading The Contagion (Zimbardo Mix) [Bugeyed Records]

Switch vs. Soul Mekanik - Never Touch That Switch (Nightmoves Remix) [Switch]

BSOD - A Bit Sketchy (Original Mix) [Play Digital]

Big Hair & Hasil Adkins - She Said (Fine Cut Bodies' Westernpunk Rerub) [CDR]

The Futureheads - Worry About It Later (Switch Remix) [679]

Filo & Peri, Serge Devant - Triple Crown (Shiloh Remix) [Baroque]

Will Saul - Jen (Phonique Remix) [Systematic]</span>
Download and send your feedback to Seb.
Bragging corner: I was the one who recommended Dancelwerk to Seb, hehe.