Markó for president!
Sunday, November 28, 2004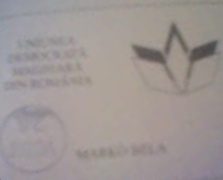 You're free to bash me now… :-)
Yeah, I actually went to vote this year… With my parents. Not that I care too much or even know too much about politics. The good news is that 30 minutes after taking this picture I was on the slopes trying out my new second hand Nidecker snowboard I bought a few days ago. And all I can say is that it's PERFECT! Whoppiedoo!
PS. Sorry for the low quality of the photo but that's all that my T610 can do.