T Six Ten
Wednesday, May 5, 2004
Since almost a week I'm the proud owner of a Sony Ericsson T610 (pronounced t-six-ten) mobile phone and all I can say is that I'm truly impressed! This phone is purely fantastic! The features are what I call exhaustive: integrated camera (not so useful, but oh well), 65k colour screen, GPRS with XHTML compatible browser and integrated email client, MMS, polyphonic ringtones, Java and Mophun support, Bluetooth, IrDA, 2 megabytes of user memory (ready for my pics, themes, applications & games) plus memory for 100 SMS-es and 510 contacts… Enough? And all this packed in a 10 by 4 cm extra stylish case.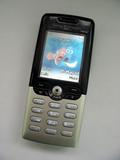 For the moment I can say that I really discovered the email client (email through GPRS, for 2 bucks a megabyte but that results in only 2 cents for an email sending + check which is waaay cheaper than an SMS) and the customization options after getting myself an USB IrDA adapter yesterday. Initially I bought a Bluetooth adapter last week and although it's a lot nicer than IrDA it wasn't recognized by my computer and so I returned it quick to Germanos. It looks like that unit was defective and yesterday when I brought my old Nokia to a GSM repair shop to update it's software I saw the IrDA and thought that I would probably be better off with an infrared adapter since I have the Nokia 8310 and the Palm m500 which both fancy infrared. So I got it. And a new era started! I no longer have to ponder what theme to download through costy WAP: two clicks and it's on the phone, whatever it is. Now as you can see Nemo and Dory dominate my phone's desktop but I have Garfield and Futurama close at hand. What I can't show are the ringtones… But some of those sound absolutely wonderful! Anyway, if you're the owner of a T610, and you're into the customization of your phone (and who's not?) myt610.net is your best friend!
It was a little hard to adapt from the Nokia but I'm begining to get used to it. To tell the truth I'm a little lost with the new gadget and the tons of features it's got and that's why I delayed posting about it thinking that I'll get on with it, but it didn't happen yet. I'm still amazed and I'm sure I'll be for a long time… And I'm sure I'll post more about it in the near future. Because it's a truly wonderful phone!