Snowboarding trip
Saturday, February 21, 2004
Wow! I was out boarding today and felt like I haven't felt a long time go. Very good that is.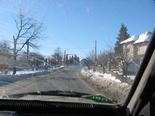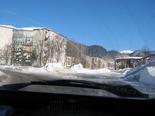 Here's the story: I made a friend promise me back in November last year that if he'll make any skiing trips he'll take me too. Because, at least for the moment, I don't have one important thing: a driving licence. And while at it, I don't really have a car either, our family's older-than-me Dacia is still being repaired. The guy called me yesterday and asked me if I want to go out today on the slopes near Cavnic which is a town 30 kms from Baia Sprie. Of course that I wanted to! Another guy was coming so this morning we packed the three of us and our equipment in his Dacia and off we went. The roads were fairly snow free so we managed to get through a few smaller villages and then through the town of Cavnic, which is about 10 kms long being layed out along a pitoresque mountain valley. We got there at about 10:30 AM.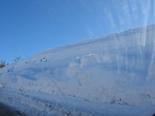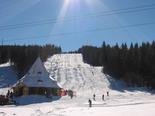 I never saw these slopes before but boy was I amazed! As I realized afterwards there were in fact two slopes the bigger and more popular of them wider and less steep and the other one less popular, narrower, steeper and "hidden" in the woods. The skilift wasn't cheap considering the distance it carried the skiers but for 150.000 lei you got ten rounds plus two bonus. TWO BONUS! Who gives you something as a bonus in Romania!? This immediately drew a huge and satisfied smile on my face. But then it was time to face the skilift. I never used any of these things before so it's natural that the first time I failed miserably. The first time I got on it, it pulled me for about 30 meters and then I fell off it. No problem, on the advice of the others going up ("Encore un fois" said one funny dude) I went back and tried again. I set a new personal record this time but still fell off it. @$%#%!!! I grabbed my board and went up on foot cursing the skiers I saw being pulled upwards in this "Look Ma no hands" style. Of course, skilifts were designed for them not boarders. I was seriously thinking about selling my ticket and doing the distance on foot but then…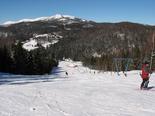 I started riding down the hill and when I got down… Well, saying that my adrenaline was rushing and I felt euphoric is nothing. I felt very good and I knew this was going to be one great day. So I tried that cursed skilift once more. And this time using logic and care I got to the top. Oh yeah! I was sooo proud of myself. The following 11 rounds went away in no time and I tried both the wide slope and the one in the woods. Preferring the one in the woods because there were less people to take care of on it. I fell more seriously only once, managing to twist my right hand a bit but other than that there were no incidents to mention and it's quite wonderful considering the speed I catched while riding down.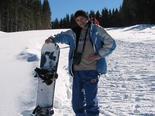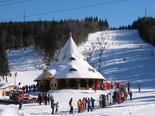 It was surely a day to remember. And it looks like tomorrow we're going again!
Photo guide: 1. zipping though the villages (I don't know if it's Sisesti, Danesti or Surdesti), 2. welcome to Cavnic, 3. tall walls of snow guarding the road, 4. the place as it looked like when we got there (notice the wider slope on the right, the one in the woods on the left and the size of the skilift cue at the right of the wooden house), 5. my friends getting ready and the good old Dacia that brought us there, 6. top-down view of the wider slope, 7. now, now, who's all happy and radiant? 8. the place as it looked when we left (notice the cue size again, and this time both skilifts were working - although not fully visible there's a cue of about the same size on the left of the wooden house too).