I want this phone!
Tuesday, March 11, 2003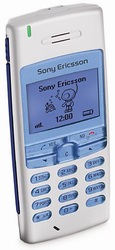 Lately I cooled down a little bit with my gadget mania. After I bought my Palm that is. Which I bought more because it was a damn good deal (I got it for the third of the original price, hah!) and I found out later that it's a very smart and useful thing for such a small gadget. So I bought it with small hopes and found out later how great it is. Not as with my MP3 player. Which I bought with great hopes and ended up hating it. I don't like it…
So I cooled down. But I still want this phone. I wanted it from the first moment I saw it. Yes. It was that. Love at first glance. I mean sight. :-) I don't know. But it's just too cool! It's small, it's thin and that blue! Oh!
Problem is I never ever bought myself a phone. I had an Ericsson T28 which I received as a present from my french partner. And now I have a Nokia 8310 which I received, well, again, as a present from my, well, still again, french partner. The Nokia's soft is now fucked up. It needs to be flashed but somehow I'm afraid to take it to the "doctor". It's a 300$ phone after all and I don't want to see it completely dead. Because of some idiot who doesn't know what he's doing.
Compared to the Nokia's features this phone is a kid. But I don't care that much since I'm not using half of the Nokia's features anyway… For example I listened to the built in radio two times in one year, never really used the vocal commands feature, never used WAP, and so on… So this phone is a bit too much for me. And I'd like something new. And if I'll get something new then I'll get my paws on that Sony Ericsson on the right.
Not too soon anyway.